Home Prices Plunge, Real Estate Slump = Fake News, In Chicagoland At Least!
Hey there, homeowners in Oak Park, Chicago, and the surrounding suburbs! Are you feeling stuck on the fence about downsizing? Well, it's time to hop off and start planning your move with confidence! I'm Laurie Christofano, an experienced and leading RE/MAX Realtor in the area, and I'm here to make your downsizing journey as smooth and stress-free as possible. Let's debunk some myths and get you excited about the possibilities that lie ahead!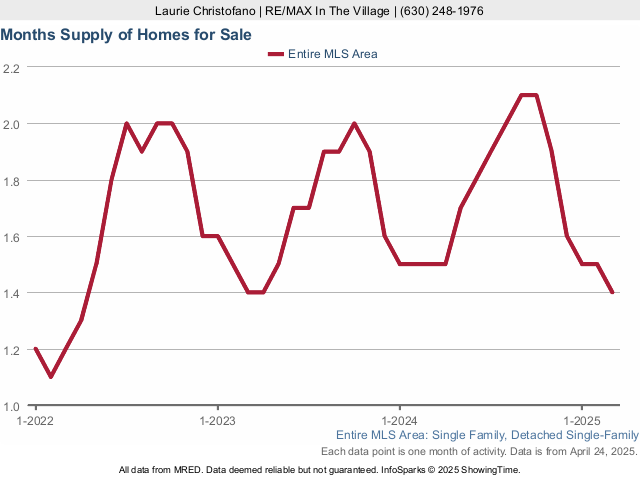 Active listings? They're hovering at rock bottom!
You might have heard whispers about low inventory levels in the real estate market, and let me tell you, they're not wrong! Active listings are hovering at an all-time low, and with people opting to stay in their homes longer, it's created a unique opportunity for downsizing sellers like yourself. The demand remains INCREDIBLY high, and as an experienced Realtor, I know how to position your property strategically to attract qualified buyers and secure top dollar for your home.
Meltdown? Not on our watch!
Rumors of a housing market meltdown? Well, put those worries to rest! Rising wages and interest rates stubbornly hovering around the 6% mark indicate a stable housing market that's here to stay. The "market is gonna crash, bro" dudes who predicted a crash last year are now scrambling to come up with new tactics to explain the market. But let's not focus on their uncertainty—instead, let's focus on your downsizing goals and the exciting possibilities that await you!
Planning your move, stress-free!
Downsizing can be overwhelming, but it doesn't have to be. As your trusted Realtor, I'm here to help you plan every step of the way. From finding the perfect smaller space that suits your lifestyle to coordinating the logistics of your move, I've got you covered. I've assisted numerous clients in Oak Park, Chicago, and the suburbs with seamless downsizing transitions, and I'll ensure your move is hassle-free and enjoyable.
So, dear downsizing sellers, it's time to break free from the fence and embrace the exciting chapter ahead. With low inventory, a stable housing market, and my expertise guiding you every step of the way, there has never been a better time to downsize. Let's turn your downsizing dreams into a reality! Start by grabbing your free Downsizing Guide.
Reach out to me, Laurie Christofano, your experienced RE/MAX Realtor, and let's embark on this stress-free downsizing journey together. Get ready for a new adventure and a brighter future!