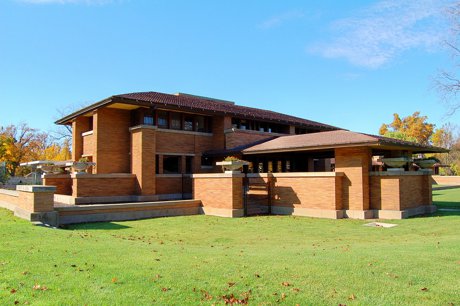 Art in architecture was truly perfected on Oak Park property by Frank Lloyd Wright. Examples of his stunning works are located throughout Oak Park and the greater Chicago area. Famous for his Prairie Style motif Wright had a vision of "organic architecture" with beauty in the details. Offered through The Frank Lloyd Wright Trust interested parties can discover the magic of Frank Lloyd Wright within multiple tours.
Treks Around Oak Park Highlight the Mastery of Frank Lloyd Wright
During the Wright Around Oak Park Tour participants spend approximately three hours immersed in the wonder of Frank Lloyd Wright. This historic walking tour focuses on prominent works around town. Originating at the Frank Lloyd Wright Home and Studio, guests progress through the Oak Park dwelling learning all about what inspired the man as well as personal history. Expert docents lead the group around the home even allowing a sneak peak onto the exclusive studio balcony. Artist and architect, Wright often used this first home as an experimental base. Afterwards, it's off to explore the landscape of Oak Park property. Ten additional homes are on the route providing excellent examples of the Prairie Style period. The last structure on the tour is the Unity Temple which was constructed from 1905 to 1908 and symbolizes classic Wright design. Read more about this majestic building here.
Treks are limited to parties of 10 and under allowing for more intimate discussions with the tour guide. Plenty of breaks make time for reflection and shopping opportunities are also given. An overlay of general history concerning the Oak Park real estate region is given in addition to the contributions added by Frank Lloyd Wright. Advanced reservations are recommended and can be made online or by calling 312.994.4000. Spontaneous add ons are welcome when space in the group is available. Dressing in layers with appropriate footwear is recommended. Tours are not suggested for those under eight years of age.